Banksy – Natural Habitat or Museum?
I can't seem to escape ads for immersive exhibits everywhere I look – on my phone, laptop, the subway, billboards – just about everywhere. While I make a beeline to see the original paintings these immersive exhibits are all advertising for Van Gogh, Klimt and the like, I am still holding out on seeing digital interpretations of whatever these exhibits are promising.
I have the same trepidations about the Banksy: Genius of Vandal exhibit that is currently going on as well. Although this exhibit has 80 'genuine and authenticated' works, the genius of Banksy is experiencing his work in its natural habitat, which I have had the privilege to do in many different countries.
Here's a collection of the Banksy's I have experienced and visited over the years.
Banksy in New York:
On the Houston Bowery Wall – Tribute to jailed Turkish artist and journalist Zehra Doğan in 2018, who was serving a sentence for one of her paintings.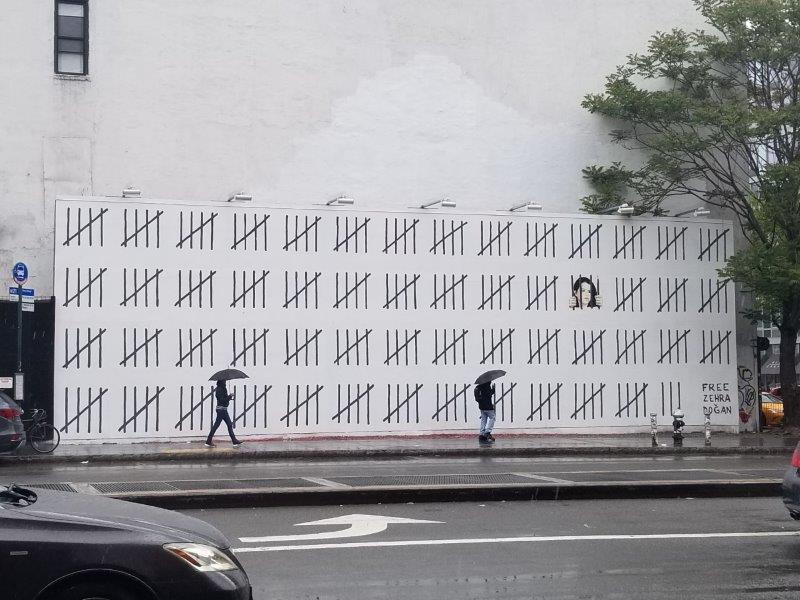 Banksy's rat in a clock face on a building at 14th Street and Sixth Avenue that was set to be demolished and replaced with an apartment building. It disappeared after a week, presumably taken away by the owners to sell it, so I am lucky to have caught it at all!
It was widely reported that Banksy sold his work at a stall in Central Park in 2013, and apparently on subway stations as well, where there is no person near the art initially and then someone appears, and the only way to pay is Bitcoin or Cash. I came across one of these on the 42nd Street subway station in Times Square, and chose not to buy as it seemed to be a copycat. I will never know if I ever passed on the chance to actually buy a genuine Banksy!
Banksy in London:
I have only seen one of Banksy's works in London in 2017, this one was of a woman holding on to her shopping cart while falling in Mayfair.
In the West Bank:
I visited the West Bank in 2017, it was a day tour that included Banksy's Walled Off Hotel and some of his pieces in the West Bank.
The first one I saw there was the Masked Thug throwing flowers on the side of a gas station.
Another of his pieces is the Armored Dove on the walls of the Palestinian Heritage Center in Bethlehem –
And then finally a visit to Banksy's Walled Off Hotel in the West Bank:
I bought a book from the Walled Off Hotel bookshop as my souvenir from this visit, love that it has a stamp to identify where it is from.
I think I am going to stick to seeking work by Banksy out in its natural habitat after all, just like he intended it to be.