Woo Woo Speakeasy
Woo Woo is a brand new speakeasy that just opened in Times Square, which I visited this weekend. They actually have a sign for it outside so it was not tough to find on 47th between 7th and 8th Avenues.
I was excited to visit it as it is supposed to be a throwback to what Times Square used to be like the in 80s. I believe you need to password to get in, which you can get from the website or the bar next door, but we saw someone coming out and walked right in. The entrance was really fun to walk through to get down to get to the bar, full of graffiti all the way through –
Once you got downstairs, the hostess was in a room that she referred to as a sex museum, because people tried to buy the toys when they thought it was a sex shop!
We got lucky getting a table without a reservation, though we could only stay for an hour as the table was reserved after. The inside felt like you had taken a step back in time, with sex themed drinks, vintage porn posters up on the walls, and names of porn movies behind the bar.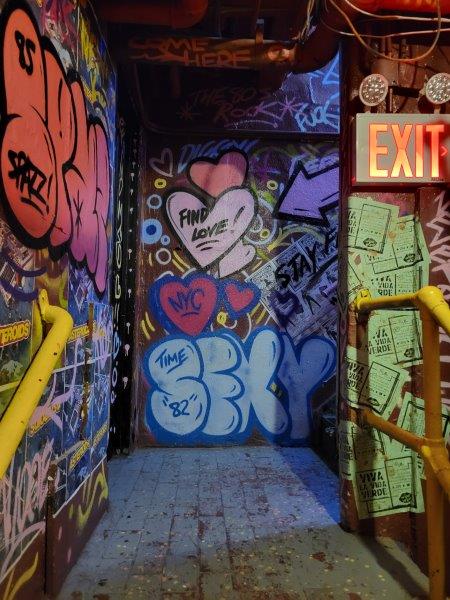 We were also served what looked like Coke, but tasted like Tang, along with a shot each in keeping with the theme of the times
All in all a fun visit to experience what Times Square was like in the 80s.
#gottalovenewyork