Still Life by Paul Pfeiffer
I was really psyched to check out Grand Central Madison, and especially the art within it after all the pictures I have been seeing online. One of the exhibits that has been getting a lot of coverage is a digital exhibit called Still Life, which I was looking forward to seeing given its backdrop of Times Square, which is one of my favorite places in New York.
I found my way to the depths of Grand Central the evening it opened, and it was both special and eerie to be one of very few people in this massive space that is filled with art anywhere you look. I still need to get down to writing about all the art I experienced, but this post has risen to the top of the pile as I actually bumped into Da Gold Man in one of my walks through Times Square, and had a great conversation with him!
Still Life at Grand Central Madison
Da Gold Man is always completely covered in gold, and his routine is to stand completely still in Times Square, moving only when he is tipped by passers by as a sign of appreciation. The Still Life exhibit consists of 10 photographs that are larger than life, with most on a plain white background that is far removed from the bright lights of Times Square that usually surround him.
Here he is the star of the show in Still Life standing completely still on digital light boxes in the Cultural Corridor at Grand Central Madison –
Da Gold Man in Times Square
I was crossing Times Square a couple of days ago, and actually saw Da Gold Man wrapping up for the evening, so he was not frozen in place as he usually is every time I have seen him. So, for the first time ever, I actually went up to confirm if he was the person featured in Still Life. As luck would have it, he is, and we proceeded to have an unexpectedly nice conversation, at the end of which he was happy to pose for a picture.
He introduced himself as Travis Da Gold Man Hartfield, and I learnt that he's actually put his kids through college thanks to this character he has played in Times Square for the last seventeen years. He shot for Still Life last summer, long before Grand Central Madison opened, and was really happy with being compensated really well for it! So – drum rolls please – here is my version of Still Life –
I guess I tipped really well given the dance I got for my tip!
Still Life Promotions
What is really nice to see is that the public art in Grand Central Madison is being promoted all over subway stations that have digital screens, and I keep bumping into Still Life and Da Gold Man everywhere I go –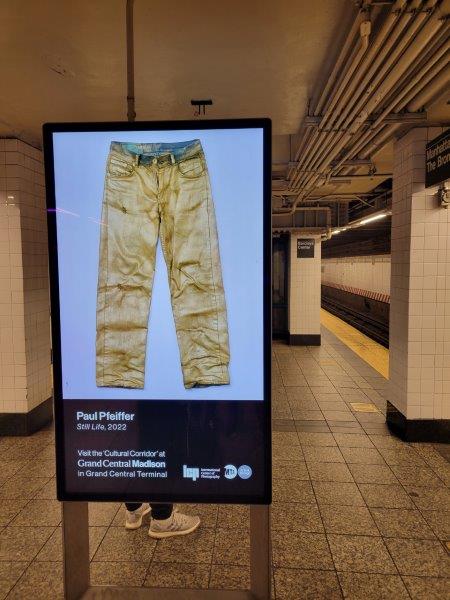 Yes, I do know there is a pair of shoes visible below the digital billboard above. Thought it was very clever to frame the picture that way, even though I say so myself.
#gottalovenewyork