Sculptures on Park Avenue – Sea Idylls by Carole A. Feuerman
New York is currently home to a stunning exhibition of sculptures on Park Avenue – Sea Idylls by Carole A. Feuerman. I love the nine monumental sculptures featuring hyper realistic depictions of swimmers are installed outdoors on the Park Avenue divide between 34th and 39th Street, and keep finding a reason to walk past them!
Feuerman's sculptures, presented by Patrons of Park Avenue (POPA) and Galeries Bartoux, all feature an incredible level of detail and realism, with each figure depicting motion and caught in a moment of time, like a photograph.
This public art exhibit is free and open to the public, and runs from April 10th to December 10th, 2023.
Park Avenue Sculptures Making a Splash
Carole A. Feuerman's Sea Idylls is a series of sculptures of swimmers that have taken over Park Avenue. The artist's unique style of sculpture-making is showcased in the nine artworks on display, which are all larger than life sculptures that capture the essence of all things swimming, including swimsuits, beach balls, drops of water and basking in the sun.
The sculptures themselves are truly monumental. With sizes ranging in size from 6 to 16 feet tall, they are larger than life featuring a swimmer frozen in a moment of pause. The attention to detail is remarkable, with every muscle and curve of very athletic and toned bodies perfectly captured in bronze.
The best thing about these sculptures is that they are a 24/7 exhibit that you can see while walking or driving – though I suggest walking – by Park Avenue through early December 2023.
Sea Idylls Sculptures
Carole A. Feuerman's Sea Idylls sculptures on Park Avenue capture different aspects of the experience of swimming, and reflect the immense beauty and grace of the human body in eye capturing detail.
Justice
Pisces
Brooke with Beach Ball
Bibi on the Ball
Quan
New York City Slicker
Survival of Serena
Strength
The Golden Mean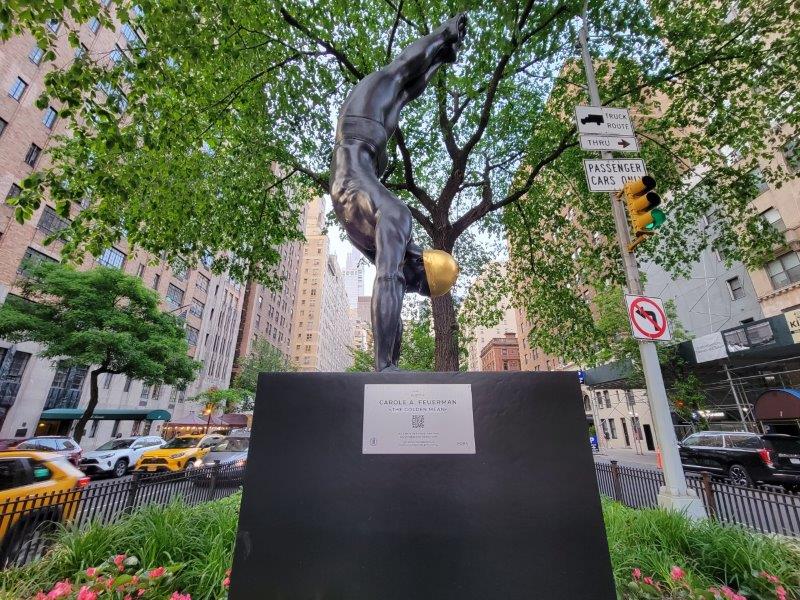 All in all, Sea Idylls is a visual feast that is worth visiting if you are in New York anytime before December 2023.