New York Avenues: Running North-South in Manhattan
New York City has an iconic grid-like street system where the streets run from east to west, while avenues in New York run from north to south. As a New Yorker, I find this grid incredibly convenient as it defines the location just by saying, for instance, 45th between 2nd and 3rd, which translates to 45th Street between 2nd and 3rd Avenue. Once the street numbers change to street names, I often have to rely on Google Maps to figure out how to get someplace.
The grid as we know it was largely defined by the Commissioners Plan of 1811, which structured Manhattan in a series of cross streets north of Houston Street. The grid system was designed to promote efficient transportation and urban planning, and it has been a defining characteristic of New York City ever since.
One of the questions I am asked often is how many avenues there are in NYC. The answer is not as simple as it sounds as the avenues are not all evenly numbered, and there are certain avenues that run for a few blocks only.
Avenues of New York
It is generally said that Avenues in Manhattan run north to south from 1st to 12th Avenue, which is true for the most part in Midtown Manhattan. However, there are a few avenues that have names, few avenues that change names, and then Broadway cuts across Manhattan to keep it interesting.
Here is a list of the main avenues in Midtown Manhattan in order from East to West –
1st Avenue
2nd Avenue
3rd Avenue
Lexington Avenue, also referred to as Lex
Park Avenue
Madison Avenue
Fifth Avenue, which divides Manhattan into East and West
Sixth Avenue, also known as Avenue of the Americas
Seventh Avenue, also known as Fashion Avenue in the Garment District
Broadway, which intersects avenues at different points
Eighth Avenue, which changes to Central Park West from 59th Street to 110th Street
Ninth Avenue, which is known as Columbus Avenue north of 59th Street
Tenth Avenue, which is known as Amsterdam Avenue north of 59th Street
Eleventh Avenue
Twelfth Avenue, or West Side Highway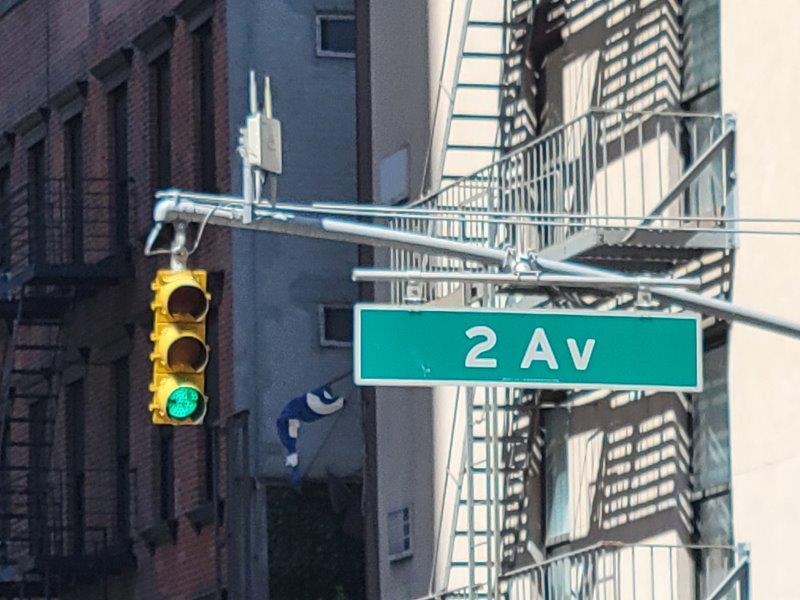 Avenues in Manhattan
For those so inclined, here is a more detailed list of Manhattan avenues, and their coordinates.
The NYC Avenues noted below run from East to West, and their coordinates are given from South to North. I am adding in all the avenues in Manhattan that I am familiar with, including 4th Ave which runs a short distance and is not usually a part of any list of avenues, and 6½ Avenue, which is a pedestrian passageway but nonetheless has the word avenue in its name so it is in this list.
Avenues A-D extend East of 1st Avenue in an area known as Alphabet City.
Avenue D
Ave D extends between 13th and Houston Street. South of Houston street, it changes names to Columbia Street through Delancey Street and Abraham E Kazan Street till Grand Street.
Avenue C
Ave C, also known as Loisaida Avenue, runs from East Houston Street through 23rd Street. South of East Houston Street, it is called Pitt Street and Montgomery Street till it ends at South Street.
Avenue B
Ave B runs from Houston Street through 14th Street. South of Houston Street, it is known as Clinton Street till South Street. Avenue B is a discontinuous Avenue, and was renamed East End Avenue from 79th to 90th Street.
Avenue A
Ave A runs from Houston Street to 14th Street. South of Houston Street, it is known as Essex Street through Canal Street, south of which it is called Rutgers Street. Avenue A is a discontinuous Avenue, and was renamed Sutton Place north from 53rd Street and York Avenue north from 59th Street through 92nd Street.
First Avenue
1st Avenue runs from Houston Street to 127th Street, and is known as Allen Street south of Houston Street.
Second Avenue
2nd Ave, which extends from Houston Street to 128th Street. South of Houston Street, it is known as Chrystie Street through to Canal Street.
Third Avenue
3rd Ave, which begins at Astor Place and St Marks Place and all the way north to 128th Street. South of this, it is known as Cooper Square, Bowery, Chatham Square and Park Row.
Fourth Avenue
4th Ave runs from Cooper Square at 8th Street to Union Square at 14th Street, and changes to Park Avenue north of 14th Street.
Lexington Avenue
Lexington Ave, also called Lex, runs from 21st Street through 131st Street.
Park Avenue
Park Ave, originally called 4th Avenue, is called Union Square East from 14th to 17th Street, Park Avenue South from 17th to 32nd Street, and ends at 132nd Street.
Madison Avenue
Madison Ave extends from Madison Square at 23rd Street to 142nd Street,
Fifth Avenue
5th Ave runs from Washington Square Park to 143rd Street, and divides Manhattan into East and West. Street numbers begin at Fifth Avenue and go higher the further you move away, marked as East and West based on which side of Fifth Avenue they are on. The signs below are both on 50th Street and Fifth Avenue, but look carefully as one side says E 50 St and the other says W 50 St. You can also see in the sign below that E 50th Street, which is along St Patrick's Cathedral, is also known as John Cardinal O'Connor Way, which means this street has an honorory name dedicated to John Cardinal O'Connor.
Sixth Avenue
6th Avenue, also known as Avenue of Americas, begins at Franklin Street and runs through 59th Street or Central Park South. North of Central Park, this becomes Malcolm X Boulevard or Lenox Ave from 110th Street to 147th Street.
6½ Avenue
6½ Avenue is not really an avenue but a pedestrian passageway between West 51st to West 57th Streets between 6th and 7th Avenues.
Broadway
Broadway, which cuts across Manhattan, begins at State Street at Bowling Green, and runs through Manhattan, the Bronx, and even Westchester. It follows the original Wickguasgeck trail of the original Native American inhabitants, then renamed to Bredeh Wegh – Broad Way – in the Dutch colony of New Amsterdam, and then renamed Broadway under the British.
From 42nd to 47th Street, this runs through Times Square, , otherwise known as the Crossroads of the World.
Seventh Avenue
7th Ave, also known as Fashion Avenue in the Garment District, begins at Clarkson Street where Varick Street becomes Seventh Avenue South, is then named Seventh Avenue from the cross section of Greenwich Avenue and West 11th Street, all the way up to Central Park at 59th Street. It runs through Times Square from 42nd – 47th Street. North of Central Park, it is called Adam Clayton Powell Jr. Boulevard from 110th Street.
Eighth Avenue
8th Ave, which changes to Central Park West from 59th Street to 110th Street along Central Park, and then Frederick Douglas Boulevard North of Central Park at 110th Street
Ninth Avenue
9th Ave, begins at Gansevoort Street and runs through 59th Street, where its name changes to Columbus Avenue through West 110th Street, where its name changes to Morningside Drive through 122nd Street.
Tenth Avenue
10th Ave, which begins a block below Gansevoort Street and 11th Avenue, changes to Amsterdam Avenue North of 59th Street. Amsterdam Avenue runs for 129 blocks.

Eleventh Avenue
11th Ave begins at the intersection of Gansevoort Street, Tenth Avenue and West Street, and changes to West End Avenue at 59th Street through 107th Street. It is part of the West Side Highway between 22nd Street and Gansevoort Street.
Twelfth Avenue
12th Ave, which originates as West Street at Battery Park, runs as Eleventh Avenue from Gansevoort Street to 22nd Street, where 12th Avenue branches off and runs through 72nd Street, where it becomes the Henry Hudson Parkway.
St Nicholas Avenue
St Nicholas Avenue runs from Washington Heights down through Harlem, predates the 1811 plan and follows an old Indian trail through Washington Heights, Hamilton Heights and Harlem.
Width of a New York City Avenues
Avenues in Manhattan are 100 feet wide with some exceptions, such as
Lexington Avenue which is 75 feet
Broadway is 150 ft above 59th Street
Madison Avenue is 75 feet South of 42nd Street, 80 ft North of 42nd Street, and becomes 100 ft from 120th to 124th Streets
Sixth Ave is 150 ft North of 110th Street when it becomes Malcolm X Blvd
Seventh Avenue is 150 ft when it becomes Adam Clayton Powell, Jr. Boulevard North of 110th Street
Eleventh Avenue is 150 feet when it is West End Avenue North of 110th Street
Manhattan Streets
Streets in Manhattan run east to west. Numbered streets in the island of Manhattan run from 1st Street to 220th Street, but the area of Marble Hill also falls within the borough of Manhattan, so the highest street number for the borough of Manhattan is 228th Street. Downtown Manhattan has named streets that can be easily navigated using Google Maps.
Street numbers higher than 228 fall within the Bronx, which has numbered streets all the way up to 263rd Street.
Streets in Manhattan are usually 60 ft wide, except for the main cross streets such as 14th, 23rd, 34th, 42nd, 57th, 72nd, 79th, and so on, which are 100 feet wide.
Fun Fact 1 – Original Bolt from the Manhattan Grid
As a fun fact, there is an original bolt from when the cross streets were being marked out still to be found in Central Park. Its location is somewhat of an open secret online, though I am respecting the City's decision not to make it a marked landmark.
Fun Fact 2 – Lincoln Highway
Lincoln Highway, which is the first coast to coast highway in the US, began at the intersection of 42nd Street and Broadway in Times Square. It was originally a 3,389 mile highway built in 1913 from Times Square in New York City to Lincoln Park in San Francisco. Although the highway system has evolved away from its beginnings in Times Square, there is a marker for Lincoln Highway at the intersection of 42nd Street and Broadway even today to mark this historic highway.