Everything you wanted to know about Broadway shows but were too afraid to ask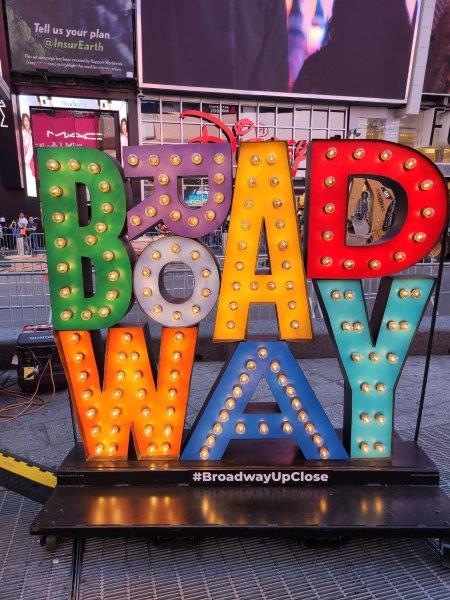 Everything you wanted to know about Broadway shows but were too afraid to ask
Broadway shows are the holy grail of things to do in New York, both for tourists and New Yorkers alike. Other than the fact that these theaters are commonly believed to be located on Broadway, what exactly are these shows and how can someone experience them without breaking the bank? As a New Yorker who indulges in these shows often, with one or two a week being the norm and two Broadway shows and a movie in a single day being my all time record, before the pandemic of course, I am happy to share all that I have learnt about these shows along the way with you here.
What exactly is a Broadway show?
Most people I know – actually maybe even all of them – always believed that a Broadway show indicates a show performed in a theater that is located on Broadway, or around the Theater District area right off Times Square. In fact, shows in New York are classified based on the seating capacity of the theater they are being performed in! The theater classifications are –
Broadway show for theaters with 500 or more seats
Off Broadway show for theaters with 100 to 499 seats
Off off Broadway for theaters with 99 or less seats
Today there are 41 Broadway theaters in New York, of which only 3 are actually located on Broadway. A really fun fact about these theaters is that Times Square actually has a floor mosaic of the actual location of Broadway theaters. As you can see from this picture, not all the theaters are located on Broadway.
Are Broadway Shows Musicals or Plays?
Broadway shows can be musicals or plays, with or without an astonishing change of costumes and even the stage sets in real time during a performance. While the longest running shows tend to be musicals, Broadway shows can just as well be plays ranging from the classics like Shakespeare to more modern works, often limited engagement on Broadway based on the schedules of their famous cast. For instance, some of the Hollywood greats I have seen on Broadway include Denzel Washington, Cate Blanchette, Al Pacino, Tom Hanks, Jake Gyllenhaal and Helen Mirrenamong many many others. Plays tend to follow more of a traditional theater performance format with the acting being the star of the show, while Broadway musicals wow and delight audiences with their acting and production values.
I am often asked to recommend shows for visitors to New York City, and my answer for someone that is going to experience their first show is always a musical. I can never forget the first musical I experienced after moving to New York in 1999, and the grandeur of the experience lives on in my memory to this day. My parents love to go for as many musicals as they can when they visit New York, plays have never really been their thing. Ironically my taste has evolved over the years where I personally lean towards plays over musicals, but I am still not willing to let a good musical pass me by regardless!
What are the types of seats at Broadway shows?
The seats at most Broadway theaters are classified into Orchestra and Mezzanine, though some theaters offer additional sections as well.
Orchestra. This is seating at the ground/stage level, and usually divided into Center Orchestra and Side Orchestra. The seats in Center Orchestra are usually numbered consecutively, such as 101, 102, 103 etc. Left Orchestra tend to be odd numbers, so 1, 3, 5 etc, while Right Orchestra would be even numbers such as 2, 4, 6 etc. This can be a little confusing, but buying a pair of seats together in the Left Orchestra as an example could be numbered 1 and 3, which would be right next to each other.
Mezzanine – These seats are a level above Orchestra. Most theaters have just these two levels. The numbering for these seats usually follows the same pattern as Orchestra seats.
Balcony – There are very few theaters that have balconies, which if present are the third and highest level of seating.
Boxes – Some theaters have boxes at the orchestra or mezzanine level, which are along the sides of the walls.
There are stairs to get to the higher levels of seating, and a number of theaters are very old and do not offer elevators. If climbing stairs is a problem, you should check with the theater before buying tickets.
What are good seats for Broadway shows?
Seats that are too close to the stage sometimes don't make for the best theater viewing experience, which is completely unlike at concerts where you want to be as close as you can!
If money is no object, then center orchestra – or even side orchestra aisle seats – about 10 rows from the stage are a great bet. Theaters have, unfortunately, recognized this as well, and have classified these seats as premium, often charging exorbitant amounts for these tickets at most theaters.
I have found that the more affordable options can often be a fraction of the price of these now premium seats, and the experience is not diluted considerably by moving back a little, or even to the mezzanine, just for the joy of experiencing the show without the tickets breaking the bank. In fact, for musicals, being on the mezzanine often elevates the experience by being able to catch all the action on stage. Front Mezzanine seats usually cost as much as Orchestra seats for this reason.
Front Mezzanine overhangs the Mid or Rear Orchestra seats, and the theater seating map specifies which Orchestra row the Mezzanine overhangs at. In some theaters, the top of the stage is not visible from the Rear Orchestra seats due to the Mezzanine overhang.
I always thought boxes were the best seats in the house from all the movies I watched growing up, especially if there was an opera being watched by say royalty as they were always in boxes, but these tend to cut off visibility on one side of the stage, and are not my favorite for Broadway shows.
When you are looking to buy tickets through the authorized ticket sellers online, they often show a map of the available seats, and you can see the price of the available seats by clicking or hovering your cursor on them. Some theaters even offer a view from the seat before making a purchase. The seats I personally like to avoid are the extreme side on the orchestra – these are cheaper for a reason as you often miss the action on one side of the stage – the first row of the mezzanine as there is sometimes a bar that blocks your view, and balcony seats, as these are just so high up that it is very difficult to enjoy the show. I often find that mid – and sometimes even rear – mezzanine offers the right balance between budget and experience if you want to plan ahead for the show. It is really important to check the price for each row in these sections, as moving back by just one row can change theater sections and often save a lot of money! If you are open to taking a chance on last minute tickets, there are ways that you may or may not be able to get cheaper tickets for a show you are interested in.
If you would like to learn more about where you should actually be buying tickets for these shows, read my post on Buying Broadway Tickets for Dummies here.
I hope this answers any questions you had about Broadway shows, but were too afraid to ask! You can check out some other Broadway show FAQs here, and the commonly accepted etiquette for attending a Broadway show here.
Here is a really fun installation of Broadway show snow globes in Times Square in November 2022.
#gottalovenewyork