Macy's Thanksgiving Day Parade Rehearsals
Thanksgiving Eve tends to be a somewhat busy day at work, so I always have FOMO about missing out on the Thanksgiving Day Parade Ballon Inflation the day before. What I did not realize is that there are rehearsals for the Thanksgiving Day Parade outside Macy's as well all week, which I have had easy access to all these years and never even knew about it!
I was taking in the holiday lights around Radio City on Sixth Avenue on my way home from work today, and crossed a group of what looked like cheerleaders with pom poms walking along. I then crossed a second group, and a third, and something clicked in my head that this must have something to do with the Thanksgiving Day Parade as they were walking towards Macy's. So I decided to kind of follow them, while taking pictures of course, and even had one of them turn around and pose for one as she saw me clicking away!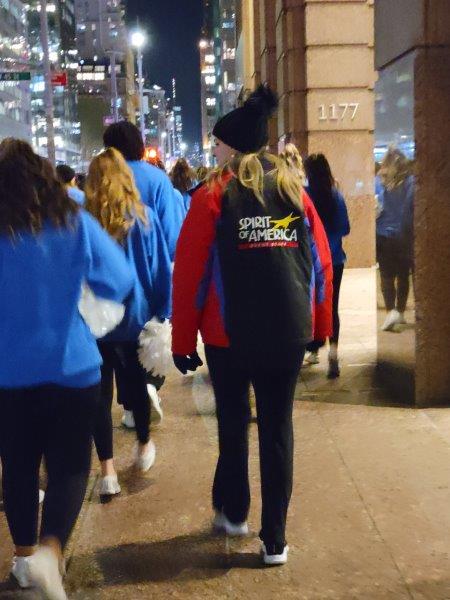 I got to Macy's – a little ahead of them at this point since I was quite sure of where they were headed – and saw that all of 34th Street outside Macy's between Sixth and Seventh Avenue is already all decked up and blocked off for the Thanksgiving Day Parade.
There were small groups all doing their own thing, such as the one below –
While I was soaking all this in, a familiar tune started to play, and I suddenly see Lea Michele with the company of Funny Girl rehearsing Don't Rain on my Parade! It isn't the best video as my view was blocked by people and equipment, but it was still quite a treat all the same.
The cheerleaders I had been following were up next, and it was really fun to see them perform, not once but twice.
There was some sort of inflated animal lying on its side, which I finally saw being led around the area. Someone behind me was trying to figure out what it was, and you can hear them in the video below asking if it was a reindeer or a trojan horse!
I was half frozen by this time, and started walking back home, crossing one of my favorite views of the Empire State Building down 34th Street, and you can see the rehearsals lighting up the area outside Macy's below.
All in all an unexpectedly delightful end to my Monday.
I have caught many rehearsals since I wrote this post, you can read about the Rockefeller Tree Lighting Rehearsals here, and the Times Square NYE Ball Drop here.
#gottalovenewyork